Skip to Content
Why It's So Important to Watch for Water Damage
When you're suffering from RV water damage, you need professional repairs from Northwest Coach. RV water damage can take a toll on your vehicle, but it doesn't mean it's time to retire it. We use high-quality products and design to make sure our repairs are built as strong, or stronger, than the original. That way you get an RV that's roadworthy, safe, and ready for adventure. It's important to get RV water damage caught early, to avoid any further damages.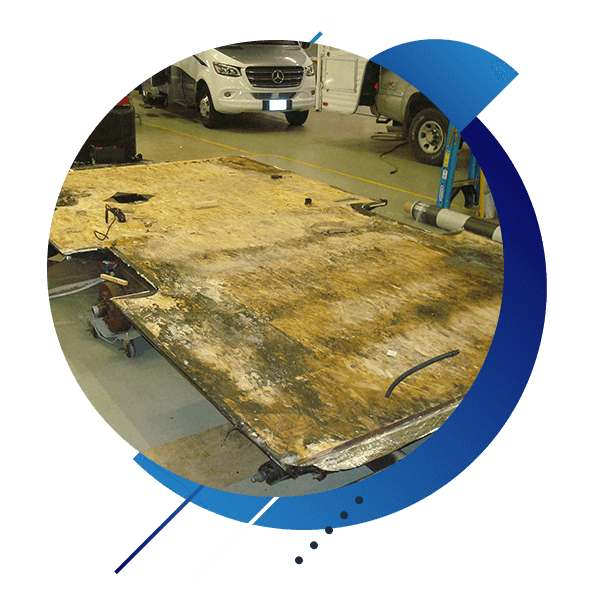 Floor Repairs
Water can get into your floor as well, making for those dangerous soft spots. From the sides and bottom, you've got to be protected. We can cut out your rotten floor and replace it with a fresh new wood floor and make sure it's sealed up tight to prevent future water damage to your recreational vehicle's flooring.
Mold
Mold continues to grow, thriving until your vehicle receives proper RV water damage repair. This can pose many dangers, particularly to the health of those staying in the RV. Water damage can frequently lead to black mold growth. This incredibly toxic mold causes numerous symptoms, and the longer you are exposed the worse they become. Early stages include headaches and coughing, later stages include permanent memory loss, blindness, and even death.
Delamination
Delamination happens when water gets into the layers of the wood products. It separates the material from the glue creating bubbles or ripples on the exterior surface. This may not be immediately apparent as there are many different structural components to your RV.  Delamination can be a major issue though, pairing with wood rot to seriously compromise the structure of your vehicle. Without proper RV water damage repair, your vehicle may not provide the manufacturer's intended level of protection, resulting in excessive injury to property as well as person.
Wood Rot
While the vast majority of vehicles don't include wood in their material count, many RVs do. Water can be particularly damaging to wood in an RV, causing structural problems throughout. Wood is often used in roofing, siding, and framing. Water damage affects the integrity of your RV. It should be professionally repaired as soon as possible.
Get It Done the Right Way the First Time